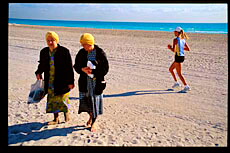 According to a new survey, the Jewish population of Miami has declined by 15 percent since 1994 reports JTA.
Some 31 percent of the 113,000 Jews in Miami-Dade County are foreign-born, according to the survey, conducted for the Greater Miami Jewish Federation. "While we are a smaller population in Miami-Dade County since the last study was conducted, the percentage of people who have lived here for 20 or more years has increased," said Michael Adler, president of the federation. "That speaks to the stability, deep roots and connectedness in Miami's Jewish community."
Does this mean Miami is no longer the retirement playground where Jews go to sit in the sun and not pay income tax? Or that the swingin' Jewish singles scene is too much fun to produce offspring?
If the Jews aren't going to Toronto and Miami anymore, somebody let us know where the next J hotspot could be so we can get into the condo market early!