If you're in the neighborhood, two young, hip Jews have cool shows up around town:
First off, Rachel Raab, an adorable and talented dreadlocked moppet with a fantastic PEZ collection, has a retrospective of her fine art photography up at the JEA. It's a colorful, twisted mix of landscapes, animals and inked, pierced people – I freakin' love it. I interviewed Rachel for the upcoming "Women to Watch" issue of skirt! last week – she's only 24, and I get that "She's going to be famous in 10 years" vibe big time.
Her photos are hung just past the lobby on the way to the fitness center. It was a trip to see which photos people gravitated to – folks really love her large landscape triptych, though some scratched their heads at the guy underwater with the tattooed neck.
We took the portrait for the magazine at the exhibit, but I convinced Rachel to let me follow her home so I could snap a shot of her PEZ: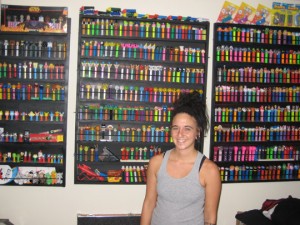 And that's only like half of 'em. See more of Rachel's work at Raabstract.com.
I've never met Ian Aleksander Adams, but I was in the Sentient Bean this week and while sipping my Earl Gray I recognized the Holy Land in the photos on the wall. The work is a product of a Taglit Birthright trip Ian took recently, and I thought his stark landscapes captured the ancient, dusty place that exists behind the shiny, modern cities. He writes in his artist statement that his work is non-political, which I agree with, but it is evocative of the complexity of how an American Jew feels about Israel.
I'm very much looking forward to Ian's next project, Knees Are Weird. ('Cause, dude, they so are!)
Check these two out all month long!