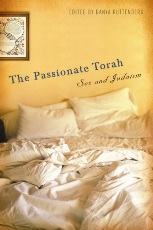 Not since Shmuley Boteach's Kosher Sex has Jewish hanky-panky gotten so much play.
Rabbi Danya Ruttenberg (I met her before she was ordained at a San Francisco signing of her first book, Yentl's Revenge, collection of deliciously edgy feminist essays) has just released The Passionate Torah: Sex and Judaism. While it's unlikely than no one's going to be using this new anthology as hot foreplay on a Shabbat afternoon, it does promise to challenge our notions of what it means to be a sexy Jew:
Covering topics such as monogamy, inter-faith relationships, reproductive technology, homosexuality, and a host of other hot-button issues, these writings consider how contemporary Jews can engage themselves, their loved ones, and their tradition in a way that's both sexy and sanctified.
In this interview with Mandy Van Deven for Religion Dispatches, Reb Danya discusses the story of spy-lover Rahab and how she's inspired the "hooker with a heart gold" archetype, as well as how feminism can reconcile Judaism to its highest potential.
It may not be erotica, but it's interesting stuff.