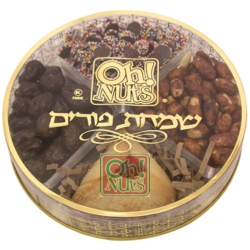 Have you entered the Oh Nuts/Yo, Yenta! Superdelish Purim Giveaway yet??
DO IT and you have a chance to win $30 to spend at OhNuts.com, which means a nice fat supply of some major SNACKS. Just looking at the pictures makes me drool.
So all you have to do is follow the directions HERE, but most important, LEAVE YOUR EMAIL ADDRESS in the comments section (you wouldn't believe how many people have not done that. Even if you've already entered, maybe you should go back and check. Seriously. Not to a noodge, but you should just make sure.)
Winner announced tomorrow at 5pm EST!