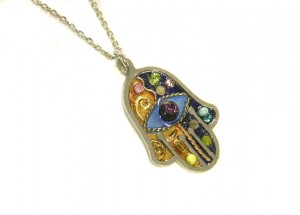 I'm totally loving this hamsa necklace by Israeli artist Seeka. Protection + sweet style = much lovelier than chicken swinging…Not that I'm superstitious, but I'll take all the help I can get these days.
They're carried locally (and affordably!) by Chroma Gallery on Barnard Street, and it's always an awesome surprise to see Judaica for sale in downtown Savannah amongst the kitsch and candy.
And here's a shout-out to my homegirl Steph for turning me on to another new favorite thing: The Red Box is a network of vending machines for DVDs – cheap, easy and always open! Hollywood Video and their "deals" can kiss my tuchus!
We rented "Defiance" outside Walgreen's last night – the Bielski Brothers' tale of Nazi resistance in the Belarussian forest haunted my dreams last night. Made me wonder if EYM and I should shore up our survival skills so we could move all the JEA Yentas out to the swamps of Wassaw Island if there ever came a reason…