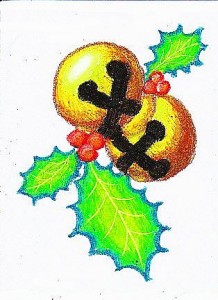 So Yenta Boy's been taking piano lessons. My grandfather, George Blumenthal, was a working musician all over Miami Beach for decades, playing the Fountainebleau Hotel when it was the fanciest place in town the first time around.
Naturally, we're all hoping that musical talent is going to land somewhere in the gene pool, as it was apparently napping when my brother and I were dividing cells. The boy's only started on the ivories this year because he dabbled in some violin lessons and choir stuff through school, but mainly because we don't have a piano. So he's been plunking out "Row, Row, Row Your Boat" and "I'm A Little Teapot" on a hand-me-down Kawasaki keyboard on a coffee table for now, and taking his lessons on his grandparents' baby grand down the street. He practices almost every day without being asked, though sometimes we get hours of "Heart & Soul" since my dad jammed with him on their last visit. We've been waiting to see if there's enough commitment in his fingers to justify buying our own little upright for the livingroom, a purchase that will hopefully be blessed by the Yenta Grandparent Educational Scholarship Chanukah Endowment Fund.
His teacher, a cute-as-button 20-something young mother getting her Masters' in Music, seems to think he's got a little something. Enough that she's invited him to be part of her winter recital. After his lesson at the Yenta-In-Laws' house last week, she warned me that the piece he'd need to learn would be a little more challenging, but she thought with focus and discipline, he'd make it sound lovely. Then she handed me the sheet music for "Come All Ye Faithful."
"Ahem," I said, eyeballing the words "Christ Our Lord" at the bottom of the page. "Is there maybe something else he could play? We're Jewish, and we're trying to get his grandparents to help buy him a piano, and I'm pretty sure this ain't gonna fly."
Poor thing looked really embarrassed, though honestly, I don't understand how she missed the giant mezzuzah on the front doorjamb in the seven Tuesdays in a row that she's been meeting us. Or the glass menorah on the table next to the piano. Or the 4×4 watercolor mural of Jerusalem with "Shalom" on the wall behind it. This obviously took her by surprise and she started thumbing through her recital book for another option. "How about 'Jingle Bells'?"
I suppose it could be worse. It's a religiously neutral tune, and it was composed by James Pierpoint right here in Savannah at the Unitarian church on Troupe Square (well, according some, anyway.) But I think my Grandpa George would want us to do better.
Anyone with a background in children's musical education have a suggestion for a beginner's Chanukah song?