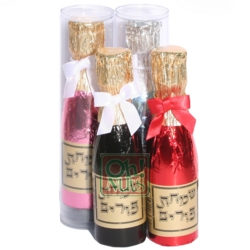 Clearly you do, or you wouldn't be reading this blog. But some taste better than others, especially when dipped in chocolate. Or covered in toffee and powdered sugar. Or so help me, enrobed in jewel-like candy shell that melts on the tongue like butter from heaven.
The very crunchy, fun people at OhNuts must be as meshuggeneh than I am, because they're giving away at $30 gift certificate to one lucky Yo, Yenta! reader in honor of the holiday of pranks, candy and silliness knows as Purim. (Yo, locals — see you at the JEA carnival on Sunday!)
So my hungry friends, $30 is a lotta delish for you and your family. You can enter this contest in three, easy ways, and you don't even have to spell "megillah":
#1: Go to the Oh Nuts Purim Basket Gift page. Pick out the tasty item that makes you salivate the most. Come back to THIS POST on Yo, Yenta! and leave a comment in the comment section with the name and the URL of said tasty item. Got that? Pick it, tell me about it here. (Mine, of course, are the Purim Chocolate Wine Bottles, because incorporating two vices in one mouthful is brilliant.)
#2: Go to the Oh Nuts Facebook Page and become a fan. Post on the wall your tasty item, the URL and be sure to tell them Yo, Yenta! sent you!
#3: Follow @ohnuts on Twitter and tweet daily, "Win a Purim Basket from http://bit.ly/aWXLzp Follow @ohnuts RT to Enter Daily. Oh, and I worship yoyenta.com!"
Please enter via #1, then shout about it using #2 and #3. Loudest and proudest wins the sugary salty buzz of their dreams!