Apologies for the slow posting, folksies — there have been many distractions from this so-called Jewish life as of late.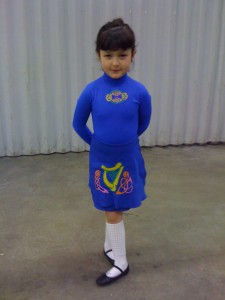 First off, Savannah's only Jewish Irish dancer performed at this weekend's Irish Festival, a glorious three-day cultural extravaganza of green that will only be outshone by next month's whisky-soaked ginormous homage to St. Patrick. Our Yenta Girl kicked up her heels like a real little leprechaun, and her papa and I were overcome with pride (and perhaps a few pints of Guinness.) Still, we refused her requests to buy her a Celtic cross for the door of her room.
And then there was Valentine's Day, another culty obsession with a saint that's become an excuse — nay, an obligation — to indulge. I remember giving out little cards to classmates when I was when in school and maybe getting a heart-shaped cookie and some apple juice, but these days it's morphed into a terrifying sugar free-for-all. I paid a visit to the children's school the Friday afternoon prior and it was like ADHD Shutter Island over there. Kids with frosting-smeared mouths and chocolate-smudged fingers were running through the halls maniacally laughing and rocking by themselves in the corners; I had to run mine around the park for an hour before the buzz died down enough to get them into the car. Still, it was kind of cute. El Yenta Boy's teacher had the kids draw up some "love and peace squares" on fabric in the vein of Tibetan prayer flags, which look precious tied together and draped across the classroom even if one or two still have a lollipop stuck to them. I'm still trying to figure out how to incorporate a related project into my Shalom School curriculum — Purim prayer flags? Maybe.
It's hard to be this close to New Orleans and not get swept up in Mardi Gras, so the weekend was full of parades and people in purple and yellow and green harlequin outfits whooping it up before they're supposed to behave themselves for six weeks for fear of the Easter Bunny's wrath. I've never had much of an urge to experience a true Who Dat, New Orleans-style Fat Tuesday because sheesh, I'm Jewish, right? I mean, it's the crazy celebration before all the Catholics get serious about Jesus' demise, which some still enjoy blaming on the Jews. Seems like a good time to take a vacation to Miami or something, which is just what New Orleans' Jews used to do. But Tablet published Justin Vogt's interesting article on the "Krewe du Jieux," a Mardi Gras parade community that's either a self-hating ritual full of disturbing clichés or a iconoclastic, stereotype-smashing reclamation. Or both. I still haven't made up my mind. I don't know — how do you feel about drunken revelers cheering on a French Quarter rendition of the "running of the Jieuxs"?
Which brings us to today, Ash Wednesday, the solemn acceptance of a smudge on the head to signify the countdown to Easter. I have been known to be obnoxiously ignorant of the practice, and even though I've come a long way, it's better for everyone that I don't leave the house today so I won't be tempted try to chase people with a nice clean paper towel. And I know y'all think I bend reality into pretzels to confirm my suspicion that everyone is Jewish, but according to this article from the Phillipines, the ritual of spreading ashy shmutz on one's forehead is actually borrowed from Judaism. Frum friends: Do we do that before or after we swing the chickens?
So there you have it, the Yenta's foray into forbidden territory, which may not be over as I have an unholy fascination with Peeps. I might be a bad Jew, but I take consolation in that I'd undoubtedly be a worse Catholic.