Big ups to my homegirl Excruciatingly Normal for turning me on to Kveller, a new Jewish mother site out of New York with delish blogs, advice and community for pregnant Jewmamas to those with preschool aged kids. 'Course, that's not me anymore, since Yenta Boy is grousing around like a real adolescent with his Justin Bieber swoop and Facebook page, and Little Yenta Girl just lost her first tooth.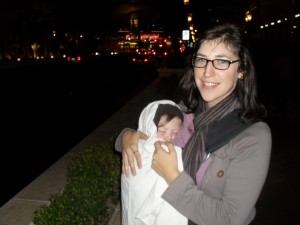 The link EN forwarded had "Blossom's F*cking Nuts, yo!" in the subject line and led to a guest blog by Mayim Bialik, kid actress turned brilliant neuroscientist and now big ol' lactation advocate, evident from the post's title: "I Breastfeed My Toddler. Got A Problem With It?"
Nope, neither me nor EN have a problem with breastfeeding a two year-old, since we have both experienced the alternating joy and sheer insanity of breastfeeding a small person who walks and talks. EN's still nursing her little boy and though mine have long forgotten the boob, all of their robust health, keen intelligence and emotional security speaks volumes for this practice.
EN thought it was crazy that Mayim's kid doesn't eat solid foods yet, which means mama is still providing all the nutrition. Me, while I am super behind my girl Blossom's commitment to attachment parenting, which involves extended nursing, toting your little hairless monkey around in a sling and co-sleeping, felt annoyed that the woman already has her freakin' phD in brain science and gets to attend red carpet functions for which she can afford a babysitter, she has to be a perfect mother who cooks vegan snacks, too? Way to make an underemployed mother of two feel like an inadequate, self-absorbed sloth for letting my kids watch TV and feeding them instant oatmeal for dinner last week because El Yenta Man was working late and I just could not make myself go to the store for broccoli.
Mayim's post ignited quite a riot in the comments section and a witty plea from fellow Kveller blogger Carla Naumburg to "get real" about the dirty truth of parenting. I agreed—if you're not the kind of mother who's truthful about the tears, the exhaustion, the evil thoughts of driving your children to their grandparents' and leaving them there forever, then you kind of suck.
But this morning, Mayim posted a response to Carla's, detailing her painful nursing experiences and getting no sleep and losing it with her kids, though her hissed "Just go to sleep already" really makes my constant use of the F-word look worthy of a visit from Child Services. I'm impressed with her willingness to face of the criticism for her original post, I'm guessing she could handle it quite well, or she wouldn't have had the chutzpah to write it in the first place.
Anyway, it was fun to visit the old days of cuddling up and nursing someone's boo-boo, and I just adore EN and Mayim and Carla and Kveller.
And I'm damn glad my own kids are old enough to be at school all day while I go have a glass of wine at lunch.