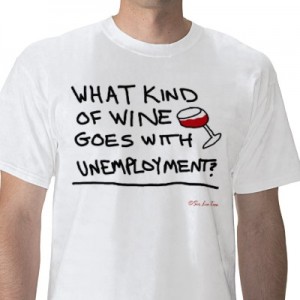 Well, it wasn't ALL day, just a few hours, but when you have your children along, the whining extends one's perception of the experience. Fortunately, it looks like the Yenta is eligible for a bit o' government kickback.
I don't even feel guilty, even though I'm probably violating yet another item on the Nice Jewish Girl Code by proudly standing in the unemployment line. After all, I was laid off through no fault of my own and worked my tushy off for two years. I tried to make this an opportunity for a life lesson for the kids, but after ten minutes of "Guess What Kind of Job The Guy With the Twitch Lost," they both receded into their iPods.
As for addressing the t-shirt's question, I'm taking suggestions. If anyone's got a Trader Joe's close by, maybe you could pick me up a case of Two-Buck Chuck? I'll pay ya when the first unemployment check comes in.
*From the rather extensive collection of "unemployed" t-shirts at Zazzle.com — I know of at least one of you who might be particularly interested in the "furloughed" subsection.