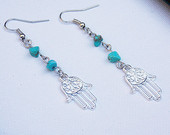 I had a birthday recently and was super delighted to receive this pair of lovely hamsa earrings from my co-worker and sassy feminist Alice J of Mic Drop Designs!
Miz Alice grew up among the busy Jewish neighborhoods of Sydney, Australia and has just added a bunch of Jewish-y bling to her Etsy shop:
The Challah At Ya Girl Statement was inspired by the cool Jewish ladies in my life, but you don't have to be Jewish to wear it – maybe, like me, you just love wonderful baked goods and pretty silver jewelry with heart and meaning.
Thanks for the gift, Alice–I'll wear these double Evil Eye repellers to the next city zoning meeting!