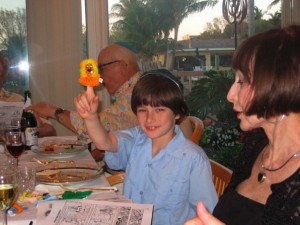 Yesh, the Yenta's back from sedering it up Miami, and though the family spent almost as much time debating whether Rush Limbaugh is Jewish or not (it was just some Talmudic scholar's idea of a Purim prank – a durn good one, too!) as we did on the plagues, it was a some good time. The Yenta children garnered major kvells for their Four Questions, though someone should tell El Yenta Man he can drop the Lazy Son imitation already.
Sadly, it'll be our last year of Floridian Pesach since my Brother the Doctor has decided to wander around the desert accepted a job back in Arizona, but we're thinking next year at Tybee Island, GA. If we have a seder on the beach, does Elijah come in the form of a drunk fraternity guy looking for a place to crash?
Anyhoo, since it's after the seder but still a few days before we can eat pizza, according to the lunar calendar, Yo, Yenta! is FIVE years old this week – that's one thousand, seven hundred and seventy-four posts of snarky confessional Jewish motherhood. You can buy a beer on Thursday at Screaming Mimi's, 'k?
In the meantime, I hope you're all having a matzah-riffic Passover!