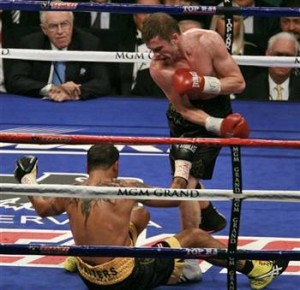 He's not ordained yet, but Yuri Foreman showed the world what Torah study plus a lot of speed bag training can do:
The Belarus-born, Israeli-bred, Brooklyn-based boxer punched his way to victory over Daniel Santos last Saturday after Shabbos, taking Santos' title as the Welterweight Champion of the world. Which means that along with Orthodox junior welterweight champ Dmitiry Salita, it's only a matter of time before synagogues start setting up Las Vegas-style boxing rings on the bima after Havdalah, which would be AWESOME.
For another compelling example of an a**-kicking Jew, look no future than Foreman's wife, Leyla Leidecker: The future rebbetzin is an amateur boxer herself who directed the documentary "Golden Gloves" – check out the trailer here. She also happens to be GORGEOUS.
All I have to say is that I hope they have lots of fast-fisted, observant children who form a Maccabean-like army and scare the pants off Iran.