Last year I had to scrounge for appropriate holiday music, but this year there's a CD for every slot in the carousel: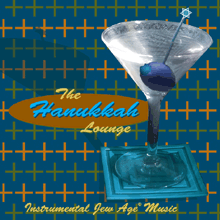 Hannukah Lounge: CraigNCo has a hit with this groovy, mellow collection of spacey instrumentals. Call it Jew-age jazz without the Kenny G. Test out the atmosphere for yourself while sipping a Chanukah-tini at the new Flash Lounge.
Hannukah Rocks: I'm not sure if "Applesauce Vs. Sour Cream" can be considered a debate worthy of a rock n' roll label, but the LeeVees manage to pack in some truly rockin' riffs with very silly lyrics. The music has the ironic indie flavors of They Might Be Giants and Barenaked Naked Ladies (the Leevees are actually on tour with the Ladies right now) but the words are farpitzed with references to gelt, Maccabees and Jewish singles parties.
Hannukah Swings: Clear the livingroom! Macher Kenny Ellis has infused your favorite classics with horns and a Big Band beat that will have every generation jitterbugging (careful, don't knock the menorah or there'll be wax in the carpet.) Ellis, whose Sinatra-like crooning is a delight, also reaches deep to bring out some non-clichéd culture: There's even asong in Ladino called "Ocho Kandelikas" that may inspire a bissel Chanukah mambo.
Kosher Christmas Carols: Look, I said there was new Chanukah music, but I didn't say it was all worth listening to. Frankly, any Chanukah album with "Christmas" in the title is a clue that "bad parodies happen here." According to Joe Eskenazi of the j., this one's a real farshtinkener.
I Saw Hannukah Harry Beat Up Santa Claus: It seems bad parodies are just inevitable, so you might as well download one that's actually funny. (Click here to listen and scroll down.) But forget the rest of Hal L. Singer's album; it's STFG.
Happy Tunes, all!