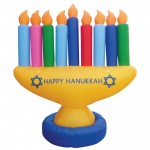 Oh damn you lunar calendar, I just scraped the jelly skeleton off the storm door and now it's time to decorate for Chanukah already? There's still wax on the bookcase from last year!
And don't even get me started on Thanksgivukkah – to paraphrase my bubbie (of blessed memory), I need a two-holiday shebang to prepare for like I need a hole in the head. (Yes, there's a Wikipedia entry for it. Calling it "a pop-culture portmanteau neologism" is taking a little far, dontcha think? And anyway, as Haaretz blogger Allison Kaplan Sommer wonders, why not Chanksgiving?)
I just pray that the next time this happens in the year 79,811 (or something like year 83,582 in Hebrew) someone has invented a robot that cleans the ceiling of our descendants' underground pods after the GMO-free potato-latke-frying and inevitable cranberry sauce explosion.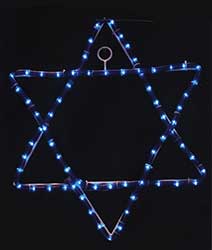 On the other hand, if I can get it together this week, the Yenta house will finally be the first one in the neighborhood to get all splashy flashy with the lights! Every year our front yard display gets a little more glitzy and farpitzed like an aging Las Vegas showgirl for several reasons:
First, I am rebelling against my spartan childhood where every house on our suburban block sparkled with fake snow and festive glare except ours. Second, 2 for 1 LED garlands at Rite-Aid.
In case you're wondering, no, a Chanukah bush is still never OK, but I all ABOUT owning the Festival of Lights with some oscillating blue bulbs or better yet, this 17.5-inch Star of David from Zion Judaica (yo, it's on sale!)
Sommer reminds us that even though Chanukah usually falls closer to Christmas, it's not a competition. But listen, my bubbie, who wore full-on costume jewelry sets and gloves just to go to the Winn-Dixie, taught me to go big, and a whole house done up in blue on a crisp, cold night is just so gorgeous. I haven't quite gotten into the world of inflatables yet (that spartan childhood will always have its hooks in my psyche,) but should I ever garner the chutzpah to 11-foot bear holding a dreidel in my yard, Zion Judaica is the hook-up.
In fact, ZJ's got pretty much everything you need for Thanksgivikkah Chanukah in their online superstore — and they're offering a special gift for Yo, Yenta! readers! Just include the words "free neck" in the comment box on the confirmation page any order over $49.99 and you'll receive a free dreidel necklace. (Because nothing goes better with flash lots of than Jewish bling!)
Orders usually ship between two and eight business days, with express options. Hurry up, we've only got two weeks to make the neighborhood shine!
.