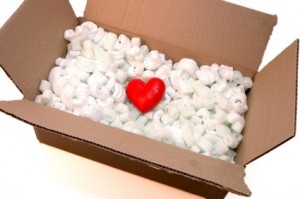 The Yenta children are off at Jewish camp for a few weeks, where they are presumably learning a rock 'n' roll version of the birkat hamazon and the finer points of a gaga slam.
Of course, I am handling this terribly, roaming around their empty rooms looking for things to clean and carrying the dog around like a baby.
However, I have to say I am enjoying the opportunity to have some much-heralded Alone Time with their father. You probably think I mean sex in the kitchen and romantic candlelit meals and all the exciting activities that get pushed to the back of the minivan when they are children around. But really, I'm just happy to have an interaction with him that doesn't involve commentary from the peanut gallery.
All this week we've been having conversations that start out with things like "This incredible thing happened at work–" or "I have extremely important news about our mortgage refinancing–" then silence, as we wait for someone to interrupt with "I saw a three-dogged dog today! It was brown and ate a muffin off the street. When are we getting another dog? Another dog! Another dog!"
So yes, while the nest feels a little empty, there's the quiet. And the sex in the kitchen.
Naturally, I don't want my children to suspect for a single minute they are not missed while they are at camp. In addition to letters and one-way emails, I send an occasional care package because hearing one's name at mail call is a scientifically-proven remedy for any sort of homesickness. Well, maybe it's not scientific. But I remember when I was a camper, the moment a care package arrived, an expectant buoyancy filled the cabin, giving its recipient a bit of fame and the rest of us a "goodygoodygoody" anticipation. Even though we all knew that if it was candy, it would be immediately confiscated and eaten loudly at midnight by our counselors.
Bruce Feiler had a piece in the NYT Sunday Style section about the "The Care-Package Wars," detailing how many summer camps have put the kabosh on sending edible treats and potentially destructive items like water balloons to campers. My experience as a Jewish camper is food has never been an allowable item and that's just fine, but apparently some parents go insane trying to get a pack of Jolly Ranchers to their kid. I mean, hiding it in a pack of tissues and then hot-gluing the top back on? That is some sick messaging, parents.
Even more meshuggah are the folks who smuggle their campers a cell phone. Really? If your kid can't give up texting for a few weeks so their hands are freed up to shoot a bow and arrow or tie a lanyard, maybe you're wasting those thousands of dollars at camp when perhaps therapy would be more appropriate.
This Yenta spent ten bucks at the dollar store on mini UNO decks, some finger flashlights and a pair of waterproof sandals on clearance. I'm of the thinking that it doesn't matter so much what you send, but that you put stickers on the outside.
Some of the parents in Feiler's article attribute their package panic to "keeping up," as if a truly stellar care parcel can ensure one's child's popularity. Such overt social strategizing from a distance seems ridiculous, but maybe I'm in denial.
Does a mega pack of temporary tattoos count as overparenting? I just thought it would be fun for everyone to slap on a full sleeve for Shabbat.