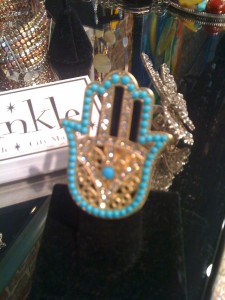 To soothe my New Year's blues, I popped over to City Market on my lunch hour yesterday to visit my favorite accessories shop in the whole wide world Twinkle.
Proprietor Joa Kelly has always impressed me with his facile command of Yiddish words (second only to Brian Williams as my favorite shaygetz who can rock the mamaloshen.) Even so, it was an unexpected delight to see this fantastic hamsa ring on display, all shiny and sparkly in its Jewishy glory.
Of course, it looks even better on my hand: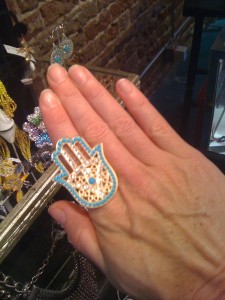 A wonderful way to bling in the New Year, nu? Comes in black, too.
Be Twinkle's Facebook friend for plenty of eye candy and arching wit.