I'm humbled and astounded by the positive reaction to this week's Civil Society Column in Connect, "Lunch with the Romeos."
People have been emailing and calling all week with stories of their own about this particular group of Old Guys who Rule. I even got a shout-out in Adam Solender's weekly newsletter—shepping nachas, yo!
What I didn't mention in the column was that all those bolded names are, of course, huge players in the Jewish community. They're the reason why the JEA exists and each synagogue has working bathrooms. Their presence and generosity ensures solid respect for Judaism in a traditional Christian town. They are Savannah's machers.
And I'm not gonna call out a single one 'em for eating shrimp at the Golf Club.
Speaking of the Golf Club, I thought it was a weird place to hold this little shindig since it's been my understanding that this one of the handful of nasty places that didn't allow Jews (or blacks) to be members until far into the 20th century. The Savannah Yacht Club and the Oglethorpe Club are known offenders who opened their doors after greed trumped bigotry, but I haven't been able to confirm or deny the history of the Gold Golf Club.
(Oops, the Savannah Gold Club is a totally different place that would be completely inappropriate for a Romeo lunch, not to mention far more unkosher than shrimp cocktail.)
The Golf Club is reported to be the first course built in the United States, which I'm hoping golf historian and macher Joel Zuckerman can help confirm. As far as the other history, anyone in the community have any info?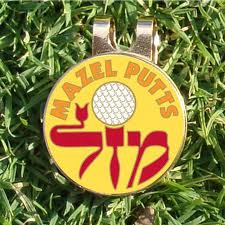 (Speaking of Jewish folks who like to hit little balls, how ya like these "Mazel Putts" golf markers from Yontifications.com?)
In the meantime, a stellar Shabbos to all and mucho mazel to the Cohen Family on their oldest son Max's bar mitzvah eve!
Here's Lunch with the Romeos:
My father–in–law called me up last week in the middle of the day, which was odd.
First of all, he usually avoids me during work hours lest I chase him down with a request to carpool a gaggle of yammering Girl Scouts. Second, ever since he bought a Droid he has become an obsessive texter.
But even weirder than hearing his voice on the line was his request:
"I want to take you to lunch at the Savannah Golf Club with the other Romeos."
Mystifying. Even more than a jabble of Corps of Engineers water data from the last 60 years, which is what I was looking at when he called. As far as I know, this recently retired oncologist has never played golf in his life.
And though he is a very nice–looking man, I think the nurses who worked with him through 40 years in practice would agree that no one but my mother–in–law would classify him as a "Romeo."
After I asked him if he was planning to pawn me off so he could make way for a newer model of daughter–in–law, maybe one that didn't crab at him to quit texting at the dinner table, he explained that "ROMEO" is an acronym for Retired Old Men Eating Out.
This still sounded slightly dangerous, but I'm never one to turn down a free lunch.