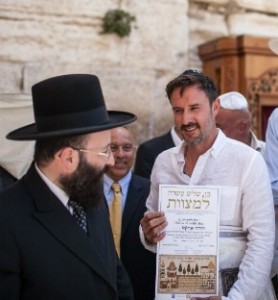 Well, lookee here. Actor David Arquette has finally become a man.
While filming his "Mile High" travel show in Israel, the perennial Scream actor donned some tefillin (the tattoos on his inner arm probably gave the rabbi a small heart attack) and finally had the bar mitzvah his meshuggeh parents forgot to plan for him.
The rabbi who oversaw the blessed event told the Boston Herald that 40 year-old Arquette "was ashamed by his lack of Jewish knowledge. Born on a commune in Virginia, he had little to do with Judaism. His maternal grandmother was a refugee of the Nazi Holocaust of World War II, but his own mother turned away from religion."
So, welcome back, Dovvie. Don't spend all the simcha cash in one place.
Speaking of bar mitzvahs, I'm a bit consumed with planning one of my own. While some mothers are brave enough to turn away from the extreme pressure to throw an event requiring about as much insanity as a wedding, I have no such latitude. We've got a bigtush Southern family to host, and there will be no eloping (is there a bar mitzvah equivalent?) to Jerusalem for a simple, low-key affair.
So far we've got a date, a venue and a Torah portion. Check off three items on a to-do list of thousands.