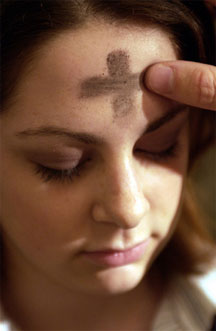 Before anyone get offended, let me say right off that the only ass here is me.
A co-worker came into work after her lunch hour today with a gray spot on her forehead, and even after someone else asked her what she's giving up for Lent I still thought I was doing her a favor when I said "Sweetie, you have a little shmutz on your face."
Could I be any more of a shmendrick? And I really have no excuse because it's not the first time I've made that mistake. In high school, a classmate rode me up and down because I spit into a Kleenex and told her to wipe her head off in biology class. A pastor's daughter, she gave me a short, tight-lipped education on the origins of Ash Wednesday and its significance: The smudged cross is received as an act of repentance to God observed forty days counting down to Easter, when a big bunny comes and licks it off.
Oh my heavens – did I just write that? I am the world's biggest shmendrick! I'm so sorry, but that girl was just so mean and self-righteous even after I apologized and offered to let her copy my pig dissection notes!
Fortunately, my coworker was hilariously self-deprecating and cool about my faux pas and promised to not to make fun of me anymore for skipping the bbq sandwich in the cafeteria. I mean, it's not like rubbing a little dirt on one's head is that weird – especially considering some of our more observant brothers and sisters do swing live chickens every year.