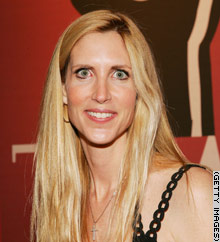 Y'all know I don't like the lashon hora, but I've just had enough of this crazy blond trannie.
While appearing on CNBC's The Big Idea with Donnie Deutsch, Ann invited nice Jewish boy Donnie to church with her, then suggested that "Jews need to be perfected" by converting to Christianity. Read the entire transcript here.
Whatever. See ya in the seventh circle of hell, beeotch.