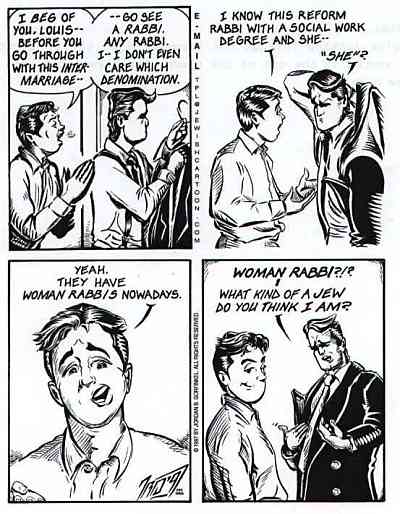 Ynetnews brings us a most interesting love story: In Paris, Rabbi Jonathan Levy was more than happy to help Protestant minister Catherine Schtorkel explore her recently discovered Jewish heritage. They fell in love, and because the bride is halachically Jewish, the pair were wed in Jerusalem six weeks ago.
However, Schtorkel is keeping her day job. "I'm still a Protestant minister and I still believe in Jesus."
Hmm. Levy's congregation was so outraged by their leader marrying outside the faith that they fired him. "I wish my movement was as tolerant as it preaches others to be," said the rabbi.
The couple is planning to move to Israel within the next two years, where they will presumably a more sympathetic community.
*Cartoon by Jordan B. Gorfinkel borrowed from JewishWorldReview.com.