Just doin' a little online window shopping…Some folks follow the tradition of buying new clothes for Passover; I personally prefer to dress up last season's frock with a little fresh Judaic bling: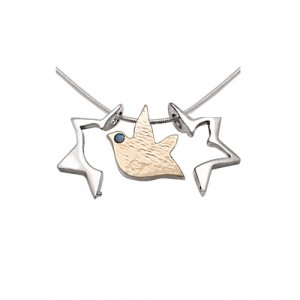 First up is this pretty sterling silver pendant from HolyLandPrecious.com. The dove is surrounded by a magnetic detachable Star of David—don't you just love jewelry with secrets? This one might just provide the peaceful mojo you need at your meshuggeneh family seder.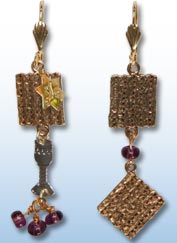 Yontifications' Pesach earrings always slay me with their crafted cuteness—the delicate, gold-plated matzah and kiddush cup charms! Careful, though, 'cause you might end up with someone looking for the afikomen in your ear.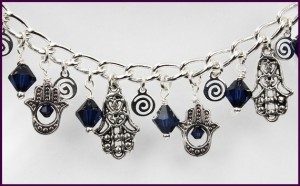 This jangly bangle from Anjali Creations on Etsy.com keeps away the Evil Eye with silver hamsas and indigo Swarovski crystals. Say "kineahora" in style!
Also on Etsy.com is Poemweave Design's Etz Chaim Scrabble Tile pendant, featuring the Tree of Life (or as I like to call it, the Goddess in disguise) and a sweet little bluebird. The letter on the back of each tile will vary; an added plus if it's an "S" and you get stuck in a wicked Scrabble tournament with your extremely competitive brother.
And for your lovely little fingies: Artist Lisa Shtromberg's hammered silver ring is engraved with the first verse of the Sh'ma—a reminder to keep the faith that this seemingly endless seder will be over soon…