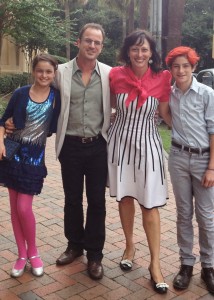 Yo, Yenta! has been posting about life, parenting, feminism and being a (kind of) a bad Jewish mother since 2004—and what a decade it's been!
Also known as Jessica Leigh Lebos, the Head Yenta is a wife, mother, writer, spoken word poet, West African dance teacher, community activist and Southern social scientist living on the edge (geographically, religiously, financially and culturally)  in Savannah, Georgia. She's married to the very handsome El Yenta Man (EYM), and together they're raising two amazing, brilliant, hard-to-keep-up-with children.
She aims to break down stereotypes about Jewish mothers in particular.