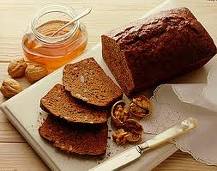 I do so love to bring in Rosh Hashanah right, considering it sets the tone for a whole year and I secretly believe I can bribe God into putting us into the Book of Life with baked treats. So this morning I got up extra early to wake the family with sweet, cinnamony smells before I left for work.
I mixed the honey and the flour with the spices and poured it into the pans. I gently placed them into the oven and went to take a shower. As I was putting on make-up and rousing the children from their slumbers, the perfume of golden cakeyness began to waft through the rooms. I hummed as I finished straightening my bangs (it is still soooo humid in Savannah) and presided over cereal preparation. Mediated bickering about who would feed the chickens and who would empty the compost. Reminded the boy to walk the dog. Wondered why brushing two sets of small teeth takes ten minutes. Did the breakfast dishes and consulted with El Yenta Man about the evening's synagogue schedules as an aroma of Happy Yiddishe Mama enveloped our little home.
But somewhere between making lunches and discovering I was wearing two different shoes, the lovely smell took on an acrid edge. By the time I spazzed over to the oven after tripping over the dog, my loaves of love were no longer the golden-brown pounds of perfection I envisioned in the wee hours of the same morning: They looked like bricks from the belly of a coal mine, the slivered almonds little chips of charcoal.
"Nooooo!" I screamed. "This is no way to begin a New Year! We're doomed!"
"Don't worry, Mommy," consoled my son. "It's the thought that counts."
"Yeah, it doesn't matter," chirped my little girl. A pause. "Can I eat it anyway? It still smells kind of good. Like steak."
*sigh* I think the message here is that trying to do too much is just as bad as not doing enough–and I guess 5771 is about finding balance.
I would have posted a photo of my blackened honeycakes, but at this point I didn't want the morning to deteriorate any further by making myself late for a staff meeting. I suppose I can try to salvage them by slicing off the really crusty parts or maybe I'll leave them outside for the squirrels. Perhaps our Lord will consider and accept them as a baked sacrifice.
Here's the recipe, from Savannah's own, much-missed Gottlieb's Bakery:
Sister Sadie's Honeycake
(with a few Yenta additions)
1 cup sugar
2 cups honey
4 eggs
1/2 cup vegetable oil
1/2 cold strong stale coffee or flat Coca-Cola [I use a combo of both if I can. Why does it have to be stale or flat? I don't know. Sister Sadie isn't around to ask anymore.]
3 cups all-purpose flour
2 tsp baking powder
1/2 tsp baking soda
1 tsp allspice
1 tsp cinnamon
1/4 sliced almonds
Preheat the oven to 325*. Grease and line and line with wax paper two loaf pans. Cream the sugar and honey together til it's drippy. Beat in eggs, oil and coffee and/or Coke. Sift the dry ingredients together and beat like a bad dog. Divide between pans, sprinkle almonds on top. Bake until top springs back, about 45 minutes. It might be 50 minutes depending on your oven. But an hour is too long, I promise.
L'Shana Tovah Umetukah, my dear friends!