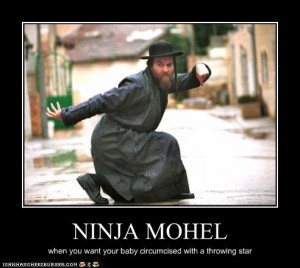 Listen up, it's penis time.
You may have heard by now that the city of San Francisco has put a measure on the ballot for November 2012 to ban male circumcision. If it passes, it would become a misdemeanor to snip the tip of anyone under 18, punishable with a $1000 fine and/or up to a year in jail. The city of Santa Monica has a similar proposal on the table—part of a national initiative called the Male Genital Mutilation Bill—and allows for no religious exemptions.
Yes, for real. Specifically, the San Francisco measure notes that "no account shall be taken of the effect on the person on whom the operation is to be performed of any belief on the part of that or any other person that the operation is required as a matter of custom or ritual."
Look, I get the controversy. Not everyone wants to cut their son's teeny weenie, and not everyone should. I understand if parents with no vested heritage in the act don't want their sons automatically clipped by a busy pediatrician to whom it's another line to submit to the insurance company. I get the arguments against the routine of circumcising American boys "just 'cause" and fully support the questioning of the reasoning that's made it de rigeur. Even the "a boy should look like his daddy" doesn't truly wash. Sheesh, I birthed my male child in the San Francisco Bay Area, where more than half of boys aren't circumcised anyway. I've always viewed it as a private family matter.
As a pregnant hippie-lookin' lady, I encountered plenty of people passionate about the "Anti-Circ" movement (also known as "intactivists"). I remember one women in particular adamantly lecturing me about "mutilation" and trauma while she sprinkled wheat germ onto her salad. (This actually happened on a freaky breathwork workshop in Hawaii where El Yenta Man I went to connect more deeply with our unborn child by swimming with dolphins. Just so you know our values are about as far out on the fringe as they come.)
I listened to Wheat Germ Woman patiently, thinking that she must have had something really terrible happen to a penis she loved to be so angry. Between childhood games and HBO, I'd seen enough penises to know they all look a little crazy anyway, circumcised and not (a boy named Josh showed me his little covered wagon behind the Amelia Bedelia bookshelves in kindergarten and feigning nonchalance, I asked him how he could possibly pee that outta thing.) I rubbed my belly as she went on and on and when I finally couldn't take anymore, I said "Hmm. Thank you for all your information but we're Jewish. And this the end of this conversation."
She didn't speak to us for the rest of the breathwork workshop. Neither did anyone else, mostly because El Yenta Man couldn't stop laughing in one of the meditations where we were supposed to tone like whales. We ditched the whole weirdo crew three days in, rented a car and drove all around the Big Island, swimming in isolated crater lakes, eating bananas straight from the trees and having the BEST time connecting with our unborn child all by ourselves. I really did appreciate where the anti-circ lady was coming from though, and if I wasn't Jewish, her points might have stuck. However, in spite of her horrific stories, I had far more examples of healthy, happy circumcised penises. I realized no matter what, my son would be circumcised because he is a Jew, and that's what we do.
I've only been to two bris in my life, both conducted by the same mohel, the person that comes to your house on your baby boy's eighth day of life with a toolkit and prayerbook to bring this child into the Jewish faith. Mohels have been specifically trained in the surgical techniques and religious ritual, and it would be kinder, gentler world if all of them were like Chanan Feld, of blessed memory.
When Rabbi Feld came in with his black hat and big beard, I felt an instant trust that allowed me to hand over my precious, precious baby to this man. His very Chabadness imbued our tiny apartment with a holy air, and though I was terrified, I felt prepared. My father and father-in-law cradled the boy carefully, and El Yenta Man let the boy suck on a cotton handkerchief soaked in Manischewitz. My mother-and-law and I clung together, eyes squeezed shut. Rabbi Feld intoned the prayers, there was a quick swish, an application of gauze, and my baby boy was in my arms nursing before I knew it. He didn't even cry. We all exhaled and had a huge nosh and laughed at the dog, who during the short deed had managed to scarf an entire platter of lox. Later my dad, a surgeon for 30 years, expressed his admiration for the rabbi's steady hand: "That was the cleanest cut I've ever seen."
It was another necessary step in this Jewish life we made and continue to make for ourselves. As joyous an occasion as it is, there is a seriousness to a bris; no one is flip about cutting a tiny baby's penis, and a good mohel sets a sacred tone that reminds us that this irreversible act forever binds this person into a covenant with God, same as Abraham, Isaac and all the daddies all the way down. While some argue that the circumcision has only been done only for sanitary or other clinical reasons, it is what has always set Jews apart from our neighbors, and outward sign of faith and a definite distinguishing characteristic. Before WWII, it was no foreskin: Jew; forekskin: not a Jew.
It also must be told that the boy's godparents, who were present at the bris and aren't Jewish, decided not to circumcise their own son when he was born seven years later. I respect every parent's choice on this—and believe it should be just that: A choice.
So to push a law that makes every bris (as well as every Muslim khitan) a crime? Good GOLLY, that smacks of blatant religious oppression. I usually leave it to Anti-Defamation League director Abraham Foxman to fight that fight while I blissfully skip through life in a country where everyone's rights are supposedly guaranteed, but I've got to wonder here: Isn't the MGM Bill just completely unconstitutional?
Bay Area rabbi and mohel Gil Leeds wrote that "the vote will empower a secular majority to impose its will, and ban one of the oldest religious traditions known to humanity. When religious belief and practice become subject to vote by the majority of a city council, government agency or referendum, it endangers all of our rights and freedoms."
The inactivists compare male circumcisions to the horror of forced female circumcision, which was made illegal in the U.S. in 1996. I see the point, though female genital mutilation (done ritually for centuries in Africa and parts of the Middle East) usually involves a lot more cutting and is done with the express purpose of dampening sexual ardor. A worldwide women's rights movement has turned the tides; 25 African countries have ratified the Maputo Protocol to end it.
Clearly, there are those who feel that male circumcision is flip side of the coin—though no amount of hideous photos or yelling in someone's face is going to change their religious convictions. And this country, you're actually allowed to have your religious convictions—the only catch is, you've got to let other people have theirs. Democracy is stupid messy, yo.
Not to be alarmist, but I find the San Francisco ballot measure to be anti-Semitic and downright dangerous. Some have noted that it's a very strange move for a city so mired in other kinds of freedom—but as a die-hard, bleeding heart liberal, I still know that fanaticism goes both ways.
I hold the same opinion about circumcision as I do about abortion—that it's personal, not political. If you are opposed, then don't have one. If you want to prevent others from doing it, put your efforts into education. But using legislation to enforce such deeply complex matters only divides us, and we need all the unifying we can get.
In other words, mind your own family's penises and I'll mind mine.