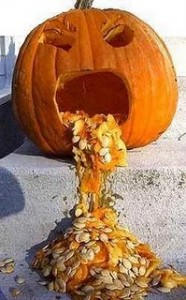 Oh fer froop's sake: Since October 31 falls on a Sunday this year, the City of Savannah has taken it upon itself to change Halloween to Saturday, apparently to accommodate the complaints of a few idiots who want to have their religion and their candy, too.
Chatham County Commissioner (I'm almost positive this isn't even a real job) Pete Liakakis said the reason for endorsing this completely farkakte move is meant to "address the concerns some parents had about celebrating Halloween on their day of worship."
Hmm. I can't pretend to know that much about churchgoin', but doesn't the worship usually wrap up around noon on Sundays in time for a nice lunch? And if you're seriously that into the hypocrisy that's hijacked Christianity, shouldn't you be at home praying for all the gay people and Democrats and the rest of us sinners no matter what day of the week it is?
Because Savannah is city that prides itself on providing an equal opportunity for absurdity for all its citizens, the Savannah Morning News article included this unhelpful tidbit:
Acknowledging the members of Chatham's Jewish community, Mayor Otis Johnson noted their Saturday Sabbath ends at sunset, which allows for trick-or-treating that night.
Mayor Johnson, it's very nice that you would consider the small number of observant Savannah Jewish families that this would affect, but I would think from your education at Brandeis University you would have concluded that any Jew who wouldn't trick-or-treat on the Sabbath wouldn't trick-or-treat AT ALL.
Yes, according to his Facebook page, Mayor Otis Johnson attended Brandeis University. Still wrapping my mind around that one.
Say, maybe should Christmas should be changed to Dec. 24 because the 25th is the Jewish Sabbath and I'm sure that I can find a way how that is somehow inconvenient. I think I'll invite Mayor Johnson over for gribenes chopped liver to discuss.
On a related note, The Shalom Y'all Jewish Food Festival has stubbornly stuck to its October 31 commitment to taking over Forsyth Park with egg creams, reubens, kugel, matzah ball soup and every other Jewishy treat you can imagine–just don't ask the bubbies to do a trick or you might get slapped.
UPDATE: The New York Times picked up this story. Fan-freakin'-tastic.