I know I wrote a little last week about the centennial celebration of the Girl Scouts held in Savannah, but after spending the weekend immersed in Scout culture and attending the special Sunday service at my synagogue, I felt I needed to share a bit more.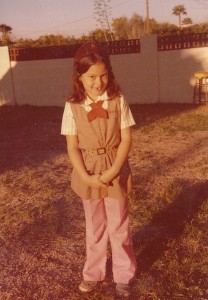 Yes, that little Brownie is the future Yenta—I always did think my little beanie was my own personal yarmulke.
Most days I'm already a huge cheerleader for my adopted city and its tremendous history, but in my opinion, being the birthplace of one of the most influential and positive organizations ever created for girls is pretty epic. Little Yenta Girl (Troop 30113) and I were swept away with pride to be part of it all, knowing that Jewish girls were there from the very beginning.
(Here's the Connect story I wrote about the wonderful exhibit at Mickve Israel, on display for the rest of the year. The exhibit was also picked up by the nationally-read Jewish Week)
The local organizers from the Girl Scouts of Historic Georgia did one amazing job getting everyone over the Talmadge Bridge for Saturday's "Bridging to the Next Century" ritual and putting on a super party in Forsyth Park (nothing more exiting in the world than six free jumpyhouses.) LYG and her friends had a blast "swapping" little tsotchkes with other troops—some came as far as California.
On Sunday, dozens of houses of worship held an afternoon service in honor of the impact founder Juliette Gordon Low and her Girl Scouts have made on the women of America. LYG read in her loud, clear voice the Girl Scout Promise and Law, which had me kvelling all over myself.
Girl Scouts of the U.S.A. CEO Anna Maria Chavez could have chosen any one of them to attend, but she decided to come to Mickve Israel. Maybe she wanted to drive home the Girl Scouts values of inclusion and diversity, or maybe she was just curious: When she gave her speech at the bima, she said "You know, I've never been in a synagogue before."
Either way, it was an extra special day to be a Jewish Girl Scout.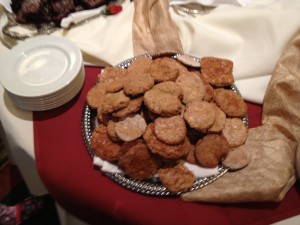 At the lovely reception afterwards (one of the best parts about Mickve Israel is that we have a full-time chef, the marvelous Brian Graves), there was one more distinctive surprise not found anywhere else: A batch of oatmeal cookies baked from the very first Girl Scout cookie recipe produced by Savannah's legendary Gottlieb's Kosher Bakery.
They tasted rather historical, that is to say a pretty dusty and dry. Clearly over the years, the Girl Scout cookie bakers have added a helluva lot more sugar to their wares.