This week the internet went apesh*t after Gwyneth Paltrow announced that she and her husband/twin/rock star Chris Martin are separating, or rather "consciously uncoupling."
The news made me quite sad, as those of us married folk know it ain't no fairy tale. If the gorgeous tall blond people with all the money can't keep it together, what chance do us common folk have? So far El Yenta Man and I always manage, but I would not judge what goes on in another couple's marriage.
However, the way some jerks behave during their divorces certainly brings on the stones, and I say we gotta respect Gwyneth and Chris for doing their best to act like grown-ups during this process. While "conscious uncoupling" may sound like the pretentious mishegoss everyone's always accusing her of, I agree with Jen Lemen's view that our society can offer more options than devolving into "bitches and ogres" as a union dissolves. (Read her insightful piece at Medium.com.)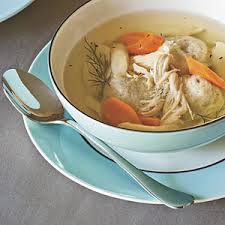 Gwynnie honors her Jewish roots, and it makes sense that she would post a chicken recipe on Goop.com during this tumultuous week. Actually, she posted three, because she clearly suffers from some type of overachiever complex. (There must be some guilt there, having inherited the blond hair and the long leggies AND the cooking talent.)
Jewish mothers know that chicken is the original comfort food. There's something just so nurturing and nourishing about a plump little bird in the pot. I also theorize that our Jewish ancestors weren't so much hunters as thinkers, and eating more fowl than red meat evolved for us because raising chickens so much less gross than skinning and gutting a deer. (Not that I've had the courage to sacrifice one of my menopausal layers just yet.)
Of course, it's chicken soup that our people are famous for. Speaking of honoring one's Jewish roots, everyone's favorite Naughty Jewish Boy James Deen recently posted his recipe for Ramen Matzah Ball Soup as part of his James Deen Loves Food series at Woodrocket.com.
While James is always a cute hoot, I must recommend a Hebrew school refresher—dude got the Exodus story all kinds of wrong. (If cussing and nudity in the border ads makes you nervous, check out the interview and printed recipe over at Heeb.com.)
Me, I prefer my chicken soup with classic balls. Here's my tried-and-true recipe, guaranteed to heal heads and hearts:
Yo, Yenta!'s Chicken Matzah Ball Soup
1. Start with a whole, cooked chicken. You can bake your own (2+ hours at 375*) but we prefer to buy one of those fancy organic ones from the market, already roasted and spiced to perfection. Pick off the meat and set aside for tomorrow's sandwiches.
2. Break apart the bones to get to the marrow. The more the carcass resembles something mauled by a wild animal, the better flavor for the soup. If getting in touch with your inner wolf seems distasteful, give thanks you didn't actually have to kill and defeather the bird.
3. Boil the hell out of it. Toss the bones in a full pot of water with a bit of skin (the chicken's, not yours) and let it reduce itself down to an couple of inches. Fill the pot again and repeat two or three times until the broth becomes a shimmery golden color that smells like heaven.*Shortcut: If you have minutes instead of hours, plop in some Better Than Buillon for a nice strong broth.
4. Add a chopped onion, three or four sliced carrots and five or six celery stalks. But make sure you scoop out the bones beforehand with a slotted spoon. Add salt and pepper to your liking (don't get insane about it, though; you can always add more but you can't take it out.) Simmer, simmer, simmer down now.
5. Here comes the schmaltz! Prepare the matzo balls by beating 4 eggs, 2 tablespoons. of chicken fat (skim it off the top of the broth), a few pinches of finely chopped parsley. Add one cup of matzo meal and a pinch of salt. Mix well and refrigerate for 20 minutes, or until you can stand it anymore.
6. The secret to fluffy matzo balls is a gentle hand. We're not hard-packing snowballs for maximum density here. Pretend you have your bubbie's arthritis. Drop in boiling broth, which should be roiling with vegetables. Simmer under a lid for 20 minutes.
Enjoy with friends and neighbors. If your sinuses and sadness don't clear after the first bowl, I recommend mainlining it.