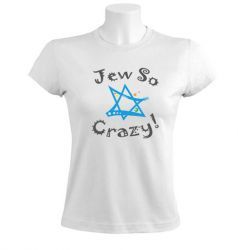 Tee hee hee, la la la…I've been dancing a jig ever since Tuesday's rawkin' inauguration festivities. Itzhak Perlman in da house!
Actually, I've been toe-tapping since Sunday's HBO "We Are One" Lincoln Memorial concert – though we were all wondering what the hell Shakira was doing there with boobies hanging out. (Not that we don't love our Colombians – peace, Ctraffik!) I did have to wince Bono paused during "Pride (In the Name of Love)" to address the "Israeli dream…and the Palestinian dream"? Ballsy, I thought, but not inappropriate. And yay for cease-fires, no matter how fragile.
Anyway, I'm still riding the high of watching the door slam on eight years of Bush and this giggly slogan from Green Turtle Shirts speaks to my dizzying happiness and plain old dizziness:
Besides it being that time of the month again (I'm talking about the work deadline, but El Yenta Man keeps wondering why that seems to coincide with PMS), I've got a big business-y summit to plan for next week, as well as a Havdalah lesson plan for Shalom School (I'm thinking roll-up beeswax candles and spice boxes made out of plastic salt shakers scored for pennies at Dollar Tree.)
On the not-so-fabulous side of things, I am also working very hard on forgiving my father-in-law for inviting non-relatives to clean out my mother-in-law's closet. I've spent the last year removing things in phases as to not upset her and also replaced things in larger sizes so she'd be comfortable. Apparently he got impatient with my process and for reasons I cannot comprehend, decided to ask these people to come by, guess what fit and remove the rest. I don't enjoy airing family laundry here (and there is a BACKLOAD, lemme tell ya), but as delighted as I am about our new president, this incident has me so riled I can barely breathe. My MIL might be permanently out to lunch (speaking of which, I need to go pick her up right now for the JEA) but she ain't dead yet, and there were things that are now gone that I thought she might want to pass on to her granddaughter. They took the Mary McFadden gown she wore to my wedding to Good-freakin'-will, y'all.
If you think I'm gonna let him do the same thing with her jewelry, Jew craaazy.