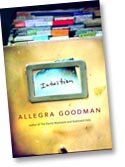 Straight from this week's j. weekly: the Yenta's interview with Allegra Goodman, author of three novels (including the newly-released "Intuition") and tuchus-kicking Jewish mother:
She's been called a "prodigy" by the Wall Street Journal. Time magazine compared her to Saul Bellow and Philip Roth. Undoubtedly, author Allegra Goodman is heading toward a permanent place in the American Jewish canon.
But perhaps her accolades are even more hard won than her predecessors', since Bellow and Roth never had to drive carpool.
The 38-year-old mother of four recently published her third novel, "Intuition," and will be in San Francisco Tuesday, March 21 and Wednesday, March 22 in her only West Coast appearance. Speaking from her home in Cambridge, Mass., Goodman laughed when describing her daily transition from "writer" to "mother."
"Sometimes the work day is very short. When my work isn't going that well, it's a relief to pick up the kids. When it is going well, it's hard to tear myself away. Sometimes I'm driving home from carpool and my head is still wrapped up in the work and when I turn around there's still one kid in the car."
However chaotic the process, her product always appears seamless. Her talent for bringing meaning to the quietest of details and breathing distinctive color into characters that might be dismissed as bland sets her books apart from the sexy violence of her Gen-X contemporaries. Goodman relies on more insidious, subtle characteristics to drive her stories, giving her work a 19th-century feel rather than reflecting the hectic pace of 21st-century life.
"While my characters' behavior isn't of the more shocking, tabloid variety, they still behave badly," she assures. "Especially in this book."
"Intuition" centers on a group of scientists working in a cancer-research laboratory, where the pressure to produce results overshadows the integrity of the scientific process. The story raises issues concerning objectivity and human error, the desire for success and the inner "knowing" of right and wrong.
But true to Goodman's style, it's not so easy to paint any particular character as villain or saint; rather, she mines each scientist's struggle and motivation through multiple perspectives until the only certain things are that none of them is infallible, and that truth is a tricky thing to pin down.
Her focus on science could be seen as a major detour from her earlier books in which Judaism played a more central role, be it in the context of relationships ("The Family Markowitz"), community ("Kaaterskill Falls") or spirituality ("Paradise Park"). While several of the characters in "Intuition" are Jewish and might invoke the "Holocaust card" when it serves them, science is their predominant belief system. But Goodman sees their agnosticism as a different kind of religion.
"Even though the characters are not religious, this is a world where ritual is very important, much like the religious characters of 'Kaaterskill Falls,'" she says. "They're both tight-knit communities based on certain rituals, which is a kind of faith."
As a novelist, Goodman's work life is a solitary one, but she didn't have to go far to learn about the politics of research. "My husband is a computer scientist, my sister is an oncologist and I have several friends who have worked in labs, so I already had a curiosity about science and research. Then I had to find biologists and scientists and follow them around, watch the procedures, sketch the mice."
Indeed, in the book Goodman describes the "nudes" (the hairless mice bred specifically for research) down to every wrinkly detail. And, no, the countless hours spent observing the animals in their cages and pinned down on the dissecting table didn't give her the willies.
"I have a strong constitution," she giggled.
While the dirty details of animal research fuel the plot, the notion of how everyone reacts to glory provides much of the rich subtext for "Intuition." While one character bathes in the spotlight, another is practically pathological in his humility. Goodman, in her fast rise to one of modern literature's darlings, espouses a wisdom that still lets her enjoy her well-earned glory.
"I am fine with the right kind of fame, based on my work, of which I believe there's two kinds: There's appreciation while you're alive, and then there's taking the long view, the literary tradition of being appreciated later, after you're dead … It takes a very long time," she muses with another of her frequent laughs.
"But who can know what work is lasting? I try to take the day-to-day with a grain of salt."
Allegra Goodman will appear 7 p.m. Tuesday, March 21 at Book Passage, 1 Ferry Building, S.F. and 7 p.m. Wednesday, March 22 at A Clean Well-Lighted Place for Books, 601 Van Ness Ave., S.F. "Intuition" by Allegra Goodman (344 pages, Dial Press, $25).