There's been much ado in the press recently about Shyne, the hiphop artist who served an eight year prison sentence after his involvement in 1999's infamous New York Sean Combs/J.Lo nightclub shooting. The former gangster managed to keep his career alive while in lockdown, but the real news has been about his religious conversion while on the inside—to Orthodox Judaism. Black coat, black hat, tefillin, the works.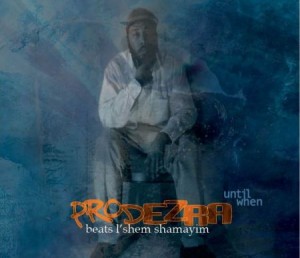 Black Orthodox Jewish rappers—something of a rare breed, nu? Aside from Shyne (born Jamal Michael Barrow, now known to his rabbi as Moses Michael Levi) there's the wonderful Y-Love, who rhymes in English, Yiddish, Hebrew and Aramaic out of Brooklyn's Flatbush neighborhood. And then there's Reuben Formey, who raps and produces instrumental tracks under the name Prodezra Beats.
The odds of one of the three known Jewish African-American hiphop artists living in your neighborhood are pretty slim. Less than being born with extra thumbs, even. Yet once again, Savannah, GA proves itself to be a strange and magical place. Blessed even, some might say.
I first met Reuben along with his lovely wife, Liora, and their two adorable daughters at last year's JEA Purim festival, and he generously shared some tracks with Yo, Yenta! readers. In advance of what's bound to be a soulful performance at the JEA Community Chanukah Party Thursday, Dec. 2, I found myself chilling with Prodezra yesterday afternoon at the new kosher frozen yogurt place on Eisenhower to discuss music, mitzvot and how this town could really use a vegetarian pizza joint.
First, the background. I didn't want to seem insensitive, but I was dying to know how a Savannah-raised, dark-skinned young man becomes an Orthodox Jew. Fortunately, Reuben set me at ease by filling me in right away on his family's gravitation to Judaism in the late 80's and 90's. Though his grandfather was a well-known Baptist preacher, his father encountered a group of friendly rabbis at a Chabad house while at college in Minnesota and began to study Torah in that no-pressure, do-what-comes-naturally setting. Reuben's mother began to study as well, bringing him and his sister along. Over time they realized this was their path, and in 1993 they converted as a family.
After moving to Savannah, Reuben's formative years resemble every other Jewish kid's: Chai Day School (the predecessor to Rambam), a bar mitzvah at B'nai B'rith Jacob, tooling around on a Casio keyboard trying to recreate Cypress Hill songs (more on that later), graduation from Beach High School and a nice business management degree from Georgia Tech. After college, perhaps more eager at that point to pursue life's deeper questions than join the family's successful safety supply business, he jumped straight to Jerusalem and the Mayanot yeshiva.
The baal teshuva returned (that could be considered a bad pun, sorry) to Savannah a few years ago with a family of his own, ready to take a place in his father's company—and to make music.
Ah, yes: The music. Created late at night, in half-hour snatches while the baby sleeps and whenever else the life of a working father allows, Prodezra Beats manifests as grooving loops of electronic reverb and percussion overlaid with positive, spiritually-influenced lyrics about faith, redemption and plenty of Torah references.
Here, listen to "Faith" while you read the rest of this post:
Dig it. Anyway, back at Beach High, young Reuben listened from everything from jazz to Public Enemy to Phil Collins and admits to having gone through a hardcore Metallica phase. Influenced by Bone Thugs N' Harmony and Atlanta's Outkast, he liked to play around with samples on his cousin's Casio, and came up with beats for other artists to rap over. Eventually, he wanted more control of what message was going out with the music and began to write his own rhymes, replacing the the sexism and violence of traditional rap music with the inspiration he finds by doing mitzvot and studying Torah.
"I've always loved the beat of hiphop and producing, but the message isn't anything I want to hear anymore," he explained over a bowl of mango sorbet. "I want to keep producing a distinctive, Southern hiphop sound that has a universal positive message. People, whether they realize it or not, are sick of negativity."
I think so, too. It's a real gift to be able to play genuine hiphop around the Yenta house that's kid-appropriate—not since 2004's "Hip Hop Shabbat" has there been Jewish rap on such constant rotation. And in the car, on the iPod and on the 'puter as I write this. (It's actually kind of hilarious to hear Yenta Boy spitting out the chorus of "Proud to Be" looking like a little Mormon in his school uniform on our daily bike ride.)
I don't think it'll be too long before this star shines far beyond Savannah—he's already well-known in music circles in spite of hanging around on the sleepy Georgia coast. Prodezra provided the beats for Y-Love and Describe's superdubtastic "Change", and his new album, "Connection Revealed," (due out March 2011, or before if his daughters sleep extra well) features Kindgroove flutist Chana Laila.
But can the Jewish community accept hiphop as its new sound? He shrugged. "In every generation music changes. Jewish music used to mean shtetl music—accordion, violin—and now we're coming to a different stage. What's important is that young people are using their passion and talent to create something holy."
As we finished our froyo, it occurred to me that a black Jewish rapper may be a rare find, but encountering a person comfortable in his own skin, untroubled by the dichotomies of being black and Jewish, of loving hiphop and Torah, even of the palpable tensions of Savannah's Jewish community, must be at least as exceptional.
"We've created all these divisions, but we're all one soul, together. That's where I'm coming from. "
Prodezra Beats' current EP, "Until When", is available at CDBaby.com, so go there and download it, 'cause you need some nice Jewish music for the holidays.
Speaking of which, as a Chanukah gift to Yo, Yenta! readers, Reuben is giving free downloads to the singles "Where Are You (24/7)?" and "Tree of Life" featuring Nosson Zand. Just click on the links—but hurry, they expire soon.
Come out tomorrow night for the show and celebration—don't forget to bring your own menorah!