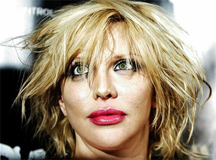 I was planning on blogging on something really deep and spiritual today, but while searching for material I got hung up on HEEB's interview with the fantastically trashy Courtney Love.
Who claims she's Jewish. On her adopted grandmother's side. Or something. Right before she bitches that "Every time you buy a Nirvana record, part of that money is not going to Kurt's child, or to me, it's going to a handful of Jew loan officers, Jew private banks…"
It really is a glorious trainwreck of a read if you're looking to make yourself feel terrific about your own life – especially your parenting skills.
I'd always admired Courtney – "Celebrity Skin" is a great freakin' album and her role in "The People vs. Larry Flynt" was brilliant" – but all the Xanax and Botox seems to have turned her brain to mush.
Frankly, as much I love other wacky Jewish mothers, I'm not in any hurry to extend and invitation for Shabbos dinner – I'm afraid she'd ask my mother-on-law to drip candle wax on her nipples or start lecturing on how the Protocols of the Elders of Zion is her favorite religious text.
Here's to a drama-free Shabbat!