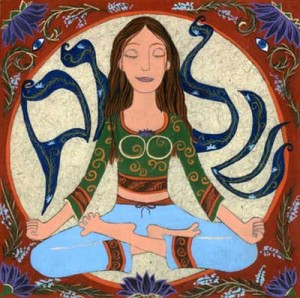 We've had some tumultuous changes over at the home synagogue this summer. The rabbi of 20+ years departed after months of drama worthy of its own reality show ("The Real Meshuggenehs of Savannah"?) and the congregation is finally peeking its collective head out to choose a new spiritual leader.
Not that agreeing on a new rabbi to represent a Reform population made up of Savannah natives, big city transplants, interfaith families with young children, retirees with grown children, Jews by choice, Jewish atheists, those whose priority is preserving an almost 300 year history, those for whom progress is a main concern as well as various and sundry other misfits and upstarts will be a quick hora in the park.
In the meantime, we have an official "interim rabbi" overseeing the situation. He's one cool cat, IMHO. Every year he travels to a new city where a congregation is in flux, where he uses his superpowers to help calm, collect and crystalize a new vision for a group of Jews who always have several more opinions than there are people. There are only a handful of trained interim rabbis in the Reform movement, and I have to wonder what kind of special ops ninja knowledge it must take to be prepared to mediate a stand-off between an old-timer who doesn't want any Hebrew transliteration in the Saturday service and the hippie mom pushing for gender-neutral prayerbooks (*ahem.) I kind of pictured a guy with a tallis tied around his neck like a cape and some magical golem dust that will render everyone a little drowsy.
But it turns out, our transitional rabbi uses a meditation cushion and balloon animals as his weapons of choice. Rabbi Darryl Crystal has been at Mickve Israel for a few months and already there have been so many positive changes. The old timers like him because he's a good listener, understands the need of preserving history and is well-educated in Torah. Us younger folks dig him because he groks the need for change, is well-versed in contemporary philosophy and is into yoga. Little Yenta Girl completely adores him because he twisted her up a balloon monkey at the last potluck Shabbat.
Though he'll only be in Savannah until next summer, we're all hoping this new sense of enlightenment, unity and cooperation will turn into an era. One of the most fascinating ideas Rabbi Crystal has brought to the table is the concept of Jewish meditation, which probably sounds like some kind of farkokte New Age mishegoss to the old-timers but is simply the practice of quiet mindfulness from a Jewish perspective. While Buddhist monks may have made sitting in silence most famous, focusing our prayers and traditions into cultivating a sense of gratitude and awe fits right into living a modern Jewish life. Rabbi Crystal has studied with perhaps the most remouned "JewBu" of them all, Sylvia Boorstein, author of That's Funny, You Don't Look Buddhist (I know, it totally cracks me up, too!)
Anyhoo, yesterday's Jewel of Elul was by Alison Laichter, the executive director of the Jewish Meditation Center in Brooklyn, and it activated this idea that incorporating these practices into congregational worship could be especially valuable as we roll into the High Holy Days. I particularly liked her definition of Jewish meditation as tikkun olam (repairing the world) "from the inside out."
Do you think Rabbi Crystal can handle the uproar if I lobby to change out the wooden pews for those round little floor cushions?